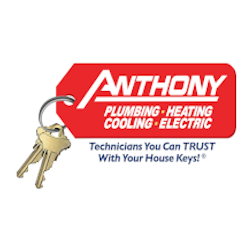 HVAC Installer $60k-$100k + Top Industry Benefits
Lenexa, KS
Paid personal time, Paid holidays, Paid vacation, 401K / Retirement plan, Disability Insurance, Vision Insurance, Dental Insurance, Life Insurance, Health Insurance
$60,000.00 – $100,000.00 Annually
Anthony's Plumbing, Heating, and Cooling is looking for top notch Licensed HVAC Installer to deliver the most efficient, professional quality customer experiences in residential and commercial HVAC.
An HVAC Installer performs installation, modification, overhaul, of air conditioning systems, furnaces, and related accessories

• Install HVAC equipment according to safety requirements company standards, and manufacturer specifications
• Stay up to date on current technologies and new products in the field.
• Maintain high customer satisfaction by addressing any questions, concerns, or issues the customer may have during installation.
• Properly connect equipment (electrical hook-ups, gas lines, and venting).
• Properly and efficiently document all calls/jobs to the company's requirements.
• Responsible for a company work vehicle, parts inventory, and equipment assigned to company work vehicle. The installer has complete responsibility for vehicle.
• Performs all work to industry standards and maintains a professional manner and appearance at all times.
• Complies with all applicable codes, regulations, governmental agencies, and company directives as related to building operations and practices safe work habits.
• Establishes and maintains effective working relationships with associates.
• Presents ideas effectively, both orally and in writing.

· Additional Compensation and Benefits
· Affordable Medical, Dental and Vision plans
· 401K with 3% company match
· Short and Long Term Disability Plans Available
· $20K Life Insurance Policy Free to Employees
· 6 Paid Holidays each year
· Paid Time Off earn up to 3 weeks/yr.
Anthony's Plumbing, Heating, and Cooling is an equal opportunity employer and all qualified applicants will receive consideration for employment without regard to race, color, religion, sex, national origin, disability status, protected veteran status, or any other characteristic protected by law.

Valid EPA Certification, Valid Driver's License
17701