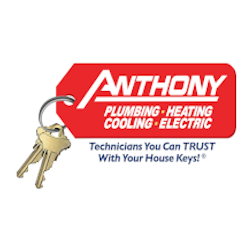 HVAC Technician $60k-$100k + Top Industry Benefits
Lenexa, KS
Paid personal time, Paid vacation, 401K / Retirement plan, Disability Insurance, Vision Insurance, Dental Insurance, Life Insurance, Health Insurance
$60,000.00 – $100,000.00 Annually
Anthony's Plumbing, Heating, and Cooling is Hiring! We are currently looking for a Licensed HVAC Technician to join our fast growing team in Lenexa! Find out why was named the "Best Contractor to Work For!"
As a HVAC technician, you will work as part of a dynamic and passionate team of professionals, demonstrate technical competency, and ensure desired sales metrics. You will diagnose and repair HVAC issues and lead customers to informed buying decisions.
Responsibilities
· Complete HVAC repairs, maintenance, installations and other related in-home, service calls for both commercial and residential customers. Diagnose and repair of electronic, mechanical and electrical components of these systems.
· Know how to establish customer rapport to sell the right products and services.
· Educate and assist customers in choosing the best finance options and maintenance plans.
· Understand your sales criteria and hold yourself accountable for exceeding revenue goals.
· Show yourself as professional and knowledgeable to win new referrals and repeat business.
· Work alongside customer service representatives and dispatch team members to ensure overall success of the business.
· Maintain a clean, organized job site and well inventoried truck.
· Participate actively in all training exercises, morning meetings and retreats.
· Train and mentor apprentices to ensure quick, accurate repairs and installations.
· Be accurate and timely with invoices, time cards, and option sheets.
Required experience:
· HVAC Service: 3-5 years
If you are a team player, apply today to start your new career!
Salary: $60k - $100,000k
If you are a team player, apply today to start your new career!
· Additional Compensation and Benefits
· Affordable Medical, Dental and Vision plans
· 401K with 3% company match
· Short and Long Term Disability Plans Available
· $20K Life Insurance Policy Free to Employees
· 6 Paid Holidays each year
· Paid Time Off earn up to 3 weeks/yr.
Anthony's Plumbing, Heating, and Cooling is an equal opportunity employer and all qualified applicants will receive consideration for employment without regard to race, color, religion, sex, national origin, disability status, protected veteran status, or any other characteristic protected by law.

Valid EPA Certification, Valid Driver's License
17700